Animal Upon Animal Game Review - A Fantastic Game to Help Kids Practice Fine Motor Skills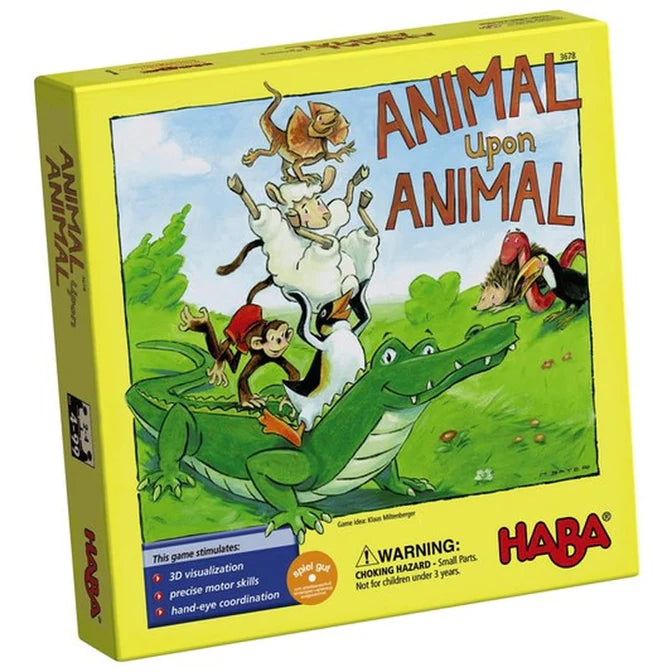 Animal Upon Animal is a wonderful kids game which fosters hand-eye coordination and fine motor skills… and it's fun for all ages!
Who is the most skillful at stacking? Who will be the first left without any animals?
Parents - this is a fantastic game to play with your kids. Another bonus is that kids will also be able to play this without your help! No reading ability necessary = Easy for kids of all ages to enjoy!
We attempted to create a "How-To" video, showing exactly how the game works. However, as you can see, it ended up being more of a blooper reel 😆 We hope you enjoy watching our efforts 😆
HABA is a German family owned-and-operated company that has been making quality games and children's products for more than 80 years. Their tabletop games, in particular, are renowned for their quality and elegance.
I've actually never come across a HABA game which I haven't loved. 🥰
▪️ How To Play ▪️
Place the crocodile on the playing surface. This is your base. Players then take turns to roll the dice.
🎲 One Dot: Place one animal on the crocodile.
🎲 Two Dots: Place two animals on the crocodile.
🎲 The Crocodile: Place an animal next to the mouth or tail of the crocodile, making the base of the pile larger. From now on, you can use this animal to balance animals upon as well.
🎲 The Hand: Choose any of your animals and give it to another player. This other player now has to pile that animal on the stack.
🎲 The Question Mark: The other players get to choose which animal you have to add to the stack.
The aim of the game is to run out of your animals first.
The game ends as soon as a player is left without animals. They win, and are elected as best animal stacker of the day.
▪️ Includes: 1 Crocodile, 4 toucans, 4 sheep, 4 snakes, 4 monkeys, 4 penguins, 4 hedgehogs, 4 lizards, Wooden Die with symbols, Set of game instructions.
▪️ Ages: 4 - 99
▪️ Players: 2-4
▪️ Game Length: ~15 minutes
(Animal Upon Animal is also available to be purchased in store from our brick and mortar store if you're lucky enough to be local to Bunbury, Western Australia!)
Or for the younger kids (ages 2+), there's "My Very First Games" Animal Upon Animal, with large farm animals, which are easy for little hands to grip: Buy "My Very First Games" Animal Upon Animal Now From Brain Spice!
Would you like more in depth instructions on how to play? Here's a wonderful video (a bit better than our blooper reel) showing how to play Animal Upon Animal!